I can't believe it's already time for book two! Would you like to own Soul of Smoke AND Shadow of Flame for free? I thought so. Keep reading.

If you haven't heard of the books, here's the back cover for book one, Soul of Smoke:
On a hike deep in the Rocky Mountains, Kai Monahan watches as a dozen dragons–actual freaking dragons–battle beneath a fat white moon. When one crashes nearly dead at her feet and transforms into a man, Kai does the only thing a decent person could: she grabs the nearest sword and saves his life.
As the dragon/man, Rhys, recovers from the attack, a chance brush of skin against skin binds him inextricably to Kai. Becoming heartsworn to a human–especially such a compelling one–is the last thing Rhys wants. But with an ancient enemy gathering to pit dragons against humanity and his strength nearly depleted, Kai has just become the one thing Rhys needs. A complete bond will give him the strength to fight; a denied bond means certain death.
Kai is terrified at the thought of allowing any dragon into her mind…or her heart. Accepting the heartswearing and staying with the dragons means sacrificing everything, and Kai must decide if her freedom is worth risking Rhys's life–a life more crucial to the fate of humanity than she could possibly know.
The books are technically published as adult, but they've got a pretty strong YA flavor. I think the series will probably appeal most to people who are fans of YA fantasy with lots of romance. Aside from that, they're pretty clean. Shadow of Flame is the second book in the trilogy and the story is more or less continuous (though I did try to write them so people starting with books two and three wouldn't get lost). If you haven't read it yet, you should definitely check out Soul of Smoke first!
And now, the reason you're all here. To celebrate release day, I'm giving away a copy of both Soul of Smoke and Shadow of Flame for free!
FREE DRAGONS!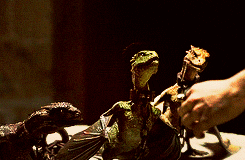 And when they don't look like grownup versions of those guys, they look like this:
Wut? Hello. Fantasy + romance is just as good as peanut butter + chocolate.
A few things you should know:
THESE ARE EBOOKS. You need a computer, smartphone, or tablet with ebook-reading software to read them.
That's all. I'd love to give away real books, but I don't have any yet. As soon as I get some, I'll give away those, too.
How to enter:
Leave a comment on this blog about your favorite fictional dragon.
Follow me on Twitter.
Follow me on Instagram.
Like my Facebook author page.
Retweet this tweet.
Share this Facebook post.
ONCE YOU'VE DONE THAT,  COME BACK AND LEAVE A SEPARATE COMMENT ON THE BLOG FOR EACH ONE. You can do all of that stuff and get a ton of entries. I know that isn't convenient, but I think that will be the easiest way to keep track of things on my end.
I'll use a random number generator to choose a winner. That person can email me at caitlyn.h.mcfarland@gmail.com (make sure you include your preferred file format for the ebooks).
This contest will run until tomorrow, September 15th, at 9am Mountain Time. I know that's short, but I'm planning on doing a more soon!
Good luck!
If you think entering contests is too much of a hassle and you just want to buy the books (they're only $3.49, after all) check out the links here.
Thanks for stopping by!